For any business, it's important to have a clear view of all business-related activities occurring in order to be able to control, adjust, and respond to elements affecting the business. The same goes for your Opt It account; the ability to see and monitor your activity in a concise and efficient manner is imperative to the success of your mobile campaign. The ability to respond to a customer's text in a timely and effective manner can oftentimes determine whether that customer remains loyal. Say hello to the newest tab in your Opt It account, which displays your New Inbox Messages.
Within your home page, you'll find this new tab next to the Top Active Keywords tab. It is called the "New Inbox Messages" tab, and it provides you with a snap shot of all of your recent activity. Previously, you've had to filter for this information within the Inbox page. Now, a full overview is available for you on your home page saving you time and allowing you to answer any important replies in a timely manner. This tab displays the keywords with the most recent activity, the number of new messages in the Inbox associated with that particular keyword, and the number of messages sent recently.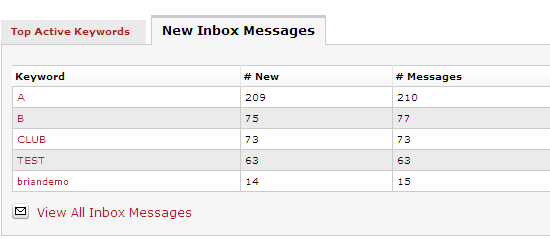 There is also a new link at the bottom of this tab to View All Inbox Messages. This will take you directly to all of your Inbox activity, starting with the most recent activity. Again, this saves you the time of filtering through the database for this information. One of the columns associated with each message on this page is called Actions. This column offers two options: delete and reply. By clicking reply, you are directly replying to a single message in your inbox.
This new tab makes it easier to keep track of the activity coming in from all of the messages you send out. It also gives you easy access to the capability of replying to a single message, in turn making it simpler to create a closer connection with your consumers. Try it out!
Welcome to the
Opt It Blog
Opt It is the premiere provider of text messaging for brands and businesses.