This week comScore, Inc. reported that mobile content usage continues to steadily increase, especially when it comes to the total amount of text messages sent. In April 2010, 64.6 percent of the 234 million American mobile phone users used text messaging to communicate, representing a total of 152 million people. With 156 million Americans falling between the ages of 15-64, according to CIA Factbook, it's safe to assume that the vast majority of the American population with significant purchasing power is using text messaging.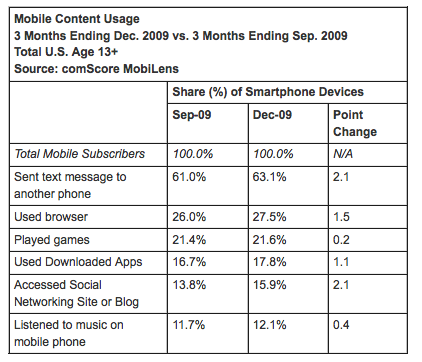 Compare the 64.6 percent of mobile subscribers that send text messages with the amount of mobile users utilizing a browser (31.1 percent) and the amount that downloaded apps (29.8 percent). Clearly, there is still a significantly higher portion of the population using text messaging instead of mobile apps and mobile Internet. For businesses and marketers searching for ways to make contact with the majority of the population, text messaging via the mobile channel is the communication form with the most power and reach available today.
Welcome to the
Opt It Blog
Opt It is the premiere provider of text messaging for brands and businesses.