This week, InsightExpress reported very encouraging news regarding consumers and mobile coupons. When the research company asked consumers whether they had made a special trip into a store after receiving a mobile coupon, 10 percent of consumers said yes. For the age range of 18-24, that percentage jumped to 20 percent.
Motivating your consumers to change all of their plans in order to come into your store is no easy task. Mobile coupons offer a truly unique and simple way to affect your consumer's behavior in such an instantaneous way. Forty-five percent of consumers said that they prefer for mobile coupons to be sent to them, giving the store owner the control of which items should be offered.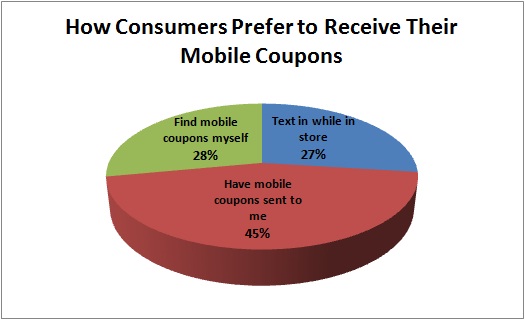 One way to increase the desire of your recipient to use the coupon is to set the coupon to expire at a select time. (For example, in a few hours or on a certain day in the future. See blog post Dynamic Expiration Date for details.) This way, your consumer is motivated by the offer and the limited time frame in which to act.
Once you have your consumer in store, you can entice them for a few impulse buys by adding a text-in coupon next to certain items. (Check out the blog post series on Sub-Keywords Response message for detailed instructions on how to set this up.) Up to 27 percent of consumers indicated that they would like to be able to receive their mobile coupons in store, thus being able to control which coupons they receive.
If you are still hesitant to send out a mobile coupon, remember that consumer buying behavior has evolved immensely over the years and that the market quickly adapts to these changes. Consumers switched to buying online as soon as the luxury was available- these stats indicate they have now adapted to the new style of coupons as well.
Welcome to the
Opt It Blog
Opt It is the premiere provider of text messaging for brands and businesses.