No one can deny the popularity of the iPhone. Everyone's had the experience of being at a gathering or party recently when a friend or co-worker has pulled out their iPhone just to demonstrate new functionality or the latest downloaded app. Its user-friendliness and sleek, sexy look are second-to-none. iPhone apps even have their own distribution channel built in, adding to a top-notch user experience. This next generation device is certainly an industry leader that is ahead of its time. But at Opt It, we're concerned that the iPhone might not be the most effective venue for your mobile marketing campaign. Here's why: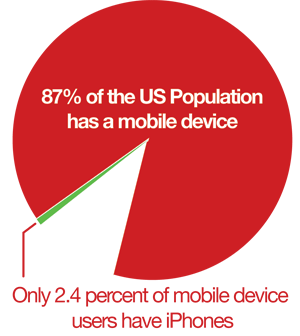 Currently in the U.S., 87 percent of the population has some sort of mobile device. Of that percentage, only 2.4 percent own an iPhone, limiting the reach of any business looking to establish a mobile marketing campaign. In terms of text message marketing campaigns specifically, texting can reach a whopping 98 percent of cell phone users, making it a very powerful marketing tool. When it comes to getting your important message to the largest audience, text messaging is the most successful tool available.
iPhone Applications Advantages
Next generation device securing its place as an industry leader.
Slick user interface design allowing for ease-of-use.
iPhone features allow applications to have a very unique user experience.
Apple has deployed a built in distribution channel for iPhone applications.
Text message marketing advantages
Text messages can reach 98% of cell phones in the U.S., which is 88% of the total U.S. population – only 2.4% of U.S. mobile phone users have an iPhone.
Text messaging is enabled on all phones bought today – no applications to download.
It is supported on all carriers – iPhone is only supported on AT&T (12% of AT&T subscribers have an iPhone).
Deployments on shared short codes can be immediate – no waiting for an application to get approved and loaded into the distribution channel.
Here's the bottom line: when it comes to user experience and next generation devices, we here at Opt It love the iPhone. But for businesses looking to launch a mobile marketing campaign, text messaging is the most effective and immediate way to reach your audience, hands down.
Welcome to the
Opt It Blog
Opt It is the premiere provider of text messaging for brands and businesses.