If it's your goal to reach customers faster and more effectively, mobile marketing is the most powerful tool available for the restaurant industry. With the better part of the world carrying mobile devices and sending and receiving text messages, mobile marketing deserves the top spot on your restaurant's action plan and is a prime opportunity for you to connect with your customers like never before. Read on to discover why a text message marketing plan will work for you and how both you and your customers can reap the benefits of using the Opt It Mobile platform.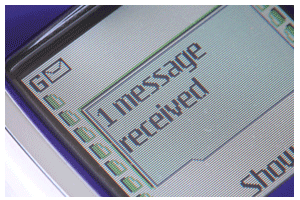 There's no denying it, mobile marketing allows restaurant owners to reach customers with an immediacy never seen before in the marketing space. Your message is sent instantly to all customers in your loyalty program, giving them real-time knowledge of your latest promotions, events and contests. What's more, you're reaching out to targeted customers with their permission – they have requested your information to be sent, allowing you to speak directly to customers who are anticipating information about your business, wherever they are, via their mobile device. Getting the latest information about your restaurant to your customers in this way drives traffic through the door, boosting business before your eyes.
Consider the various applications for mobile marketing in the restaurant world allowing you to reach your audience at home or on the go, instantaneously. Utilize Opt It Mobile to provide the access into your restaurant's loyalty program and send time-sensitive information or last minute offers for specific meals. Get real-time feedback from customers via surveys or comments. Coupons, contests and RSVP's are easily managed with Opt It Mobile and allow this ideal two-way means of communication between owner/operators and customers to become the main method of communication. Uses of mobile marketing in the restaurant industry are limited only by your imagination.
So now you know why and how the Opt It Mobile platform can launch your restaurant's mobile marketing campaign. But how do your customers benefit from your text message marketing efforts? Receiving text messages is a low cost and simple way for customers to stay informed about what's going on at their favorite eateries. Not only will customers be up-to-date on the latest events and best deals, but they'll be notified of and able to find ways to save money while continuing to eat at and enjoy the places they love – a big draw in tough economic times. With the permission-based technology that Opt It offers, your customers control what, when and how often they receive and send information about your promotions through their cell phones.
Becoming part of your restaurant's loyalty program is very meaningful to many customers and provides a sense of belonging and membership to an elite group of patrons. This is an advantage to both the restaurant owner and customer, establishing a lasting relationship made possible by the reach of the instant and versatile mobile channel.
Welcome to the
Opt It Blog
Opt It is the premiere provider of text messaging for brands and businesses.