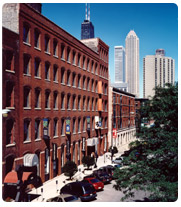 Opt It, Inc. completed its relocation to its new corporate headquarters on September 15, 2008 to accommodate future growth and expansion of the company. Opt It is now located at 212 W. Superior in the River North area of Chicago just north of downtown.
Due to the great customer response of the Opt It Mobile product, expansion into a larger office was aligned with the company's strategic goals. Expansion will benefit our long term growth allowing us to hire additional resources to better serve our customers on a daily basis. In addition, it will improve the quality of our employees work environment fostering greater innovation in the mobile industry.
Previously located at 191 N. Wacker in the heart of downtown Chicago, Opt It has moved a few blocks north into the city's loft/warehouse district. This new loft space has flexible conference areas, improved facilities for collaboration and ample bandwidth for a growing software company.
Our recent growth is attributed to our dedicated customers who have worked with us during the past four years. We truly appreciate your business and the trust you put in us as your mobile experts. We look forward to bringing you the newest and most innovative products in the mobile industry that will allow you to drive your businesses forward.
This is a great achievement for Opt It and a sign of great things to come.
Team Opt It
Welcome to the
Opt It Blog
Opt It is the premiere provider of text messaging for brands and businesses.