The restaurant industry's interest in the area of mobile marketing is skyrocketing. Savvy business owners understand that when it comes to connecting with customers, nothing is more economical or effective than text message marketing. At the recent National Restaurant Association trade show in Chicago, restaurant owners and marketers voiced this new overall theme across the industry, solidifying the knowledge Opt It already has about the power and reach of text message marketing.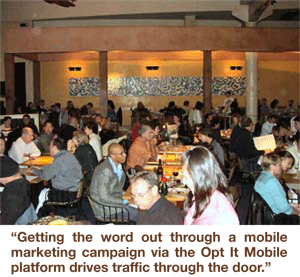 Using a permission-based marketing plan via Opt It Mobile, restaurant owners and marketers can reach their client base instantly, with the latest news on promotions and events. Contests and coupons also lend themselves to mobile marketing, giving the restaurant industry various methods to connect with their customers, while simultaneously building a mobile marketing list of VIP's.
Not only is mobile marketing simple and effective, but the connection it provides allows restaurants a way to link to customers in a struggling economy. Opt It features do more than just keep customers be up-to-date on the latest events and information, they notify them of and give them the ability to take advantage of discounts, promotions and special offers – a big draw in tough economic times. Letting valued customers know that their favorite eateries are still within reach is key. Getting the word out through a mobile marketing campaign via the Opt It Mobile platform drives traffic through the door.


Opt It Success Story: In its first-ever nationwide mobile campaign, Moe's Southwest Grill is offering customer discounts on a limited-time menu item, the Phil E. Cheese burrito. Powered by the Opt It Mobile platform, the Moe's campaign is active and successful in all of over 400 locations. Take a look at a recent press release on this restaurant's winning mobile marketing campaign.