Once you've got a basic understanding of our software, your focus will most likely turn to getting the most out of each message you send. If you've been a client with us for awhile now, or if you are just getting started with Opt It, you will definitely want to read about this cool new feature offered in Opt It 3.0.
We've been in the text messaging business since 2004 and know from experience that one of the key ways to grab your clients' attention via text is to customize the message to make it time sensitive. This is where the Dynamic Expiration Date comes in- it's a simple and easy way to catch seize your client's attention and motivate them to act immediately upon an offer.
Here's how it works: The Dynamic Expiration Date allows Opt It users to set their coupons or offer to expire an "X" amount of days after a message is sent out. For example, if your customer signs up for your list on 06/01/2010, your Welcome Message might include a coupon that expires in 3 days. For your customers that receive this message, the text would say "please redeem by 06/04/2010". But if this person joined on 06/02/2010, the message would read to them "please redeem by 06/05/2010". Pretty cool, huh?
The benefits of this feature are huge- not only are you sending a customized message to your members to make them feel special, you're setting a timeline for redemption, forcing those who want to take advantage of the deal to act quickly.
So, how do you use it? It's easy:
All you have to do is include into your message to have your offer expire an X number of days after the member joins the list (Just change XX to the number of days you want the offer to be valid). Remember- the number needs to be at least 2 digits, so if you want people to redeem your offer 1-9 days in the future, just include a "0" before the number of choice.
An example message would look like this:

(This is how the message looks typed in the software)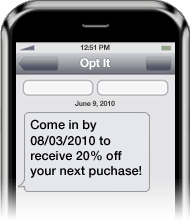 (This is how the message appears on the members phone)
The Dynamic Expiration Date feature can be included in your Welcome Message, Response Message, Already Subscribed Message, Web Form Verification Message, and Subscription Forward Response Message.
And the best part of the feature? – Iit's FREE!