Inserting call-to-actions or text teasers, such as "text VIP to 46786 (IOPTN)", into your ads is like injecting your ad with steroids. It takes a static print, radio or TV ad and introduces an interactive element to it. This makes your ad dollars work harder and allows you to get a better return on investment.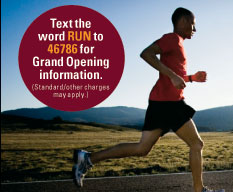 Once a person acts on your mobile call-to-action inside an ad, you create a dialogue with this person over the mobile channel. Now you have taken a static print ad and with no manual effort and have turned it into a direct one-to-one conversation with your customer. This conversation now enables you to ask your customer a question, offer them a special promotion or enter them into a contest. They are now interacting with your brand, which is invaluable.
The benefits of injecting your ads with text teasers are:
Brings your static ads to life. Your ads become interactive and give you more brand impressions.
Allows you to track the effectiveness of your advertisements. You can now measure how many people participated in your text program. In addition, by using multiple keywords or sub-keywords in different ads, you can track which ads are working harder for your campaign.
Customer acquisition is always on. As long as your ad is viewable, you have the ability to acquire new customers at their convenience.